Upcoming Southern Tour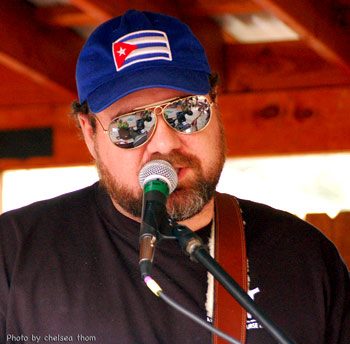 June 15th, 2014
– Sam Holt is honoring Widespread Panic's founding guitarist, Michael Houser, with shows billed as "Remembering Mikey" – Honoring the Music, Memory and Spirit of Michael Houser.  The shows will feature Houser originals, from his posthumous release Sandbox, as well as songs he wrote for Widespread Panic.  Holt will also perform a number of songs he wrote for and inspired by Houser.
After the 2002 passing of Michael Houser, Widespread Panic's founding member,  Sam Holt experienced a moment of clarity.  "There were many times he [Houser] told me, 'You need to go play music,'" says Holt.
Sam Holt served as Houser's guitar tech and his passing defined a moment of clarity for Holt.  "I realized I needed to make the most of my time," Says Holt.  Soon, he had formed his own band, "Outformation" and had gained a large following with his own original music.
Currently,  The Sam Holt Band,  which formed in Colorado in 2011, has been keeping Holt busy touring the country.  He developed his confident, hypnotic style by learning at the foot of Michael Houser, and eventually performing with Widespread Panic as their lead guitar player.
Along with Adam Grace, keyboardist for Truth & Salvage Co., "Remembering Mikey" will be a unique experience for Houser fans. "I am a huge fan of Widespread Panic,"  says Grace.  "It is an honor to be a part of this tribute to Houser, one of the greatest musical minds of our time."
Two other members of "Remembering Mikey",  Jeremy Ward and Ross Parker, played the music of Widespread Panic for years in a tribute band called "Farmer's Soul".  They garnered a huge fan base in the late 90's and will provide the perfect rhythm section for Sam Holt.  The final member of the group, Adam Stern, will be playing pedal steel and guitar, making this tribute a show that cannot be missed.
After playing his own music for many years, Holt will be returning to his roots and playing the tunes of his mentor and friend Michael Houser.  Holt relates, "Mike meant so much to so many. He instilled me with the confidence to play music… and these shows are a way for us to celebrate his music and memory."
TOUR DATES:
September 10th, 2014 – Tupelo, MS @ The Blue Canoe
September 11th, 2014 – Birmingham, AL @ Avondale Brewery
September 12th, 2014 – Atlanta, GA @ Smith's Olde Bar
September 13th, 2014 – Augusta, GA @ Sky City
September 14th, 2014 – Chattanooga, TN @ Clyde's On Main (3pm)