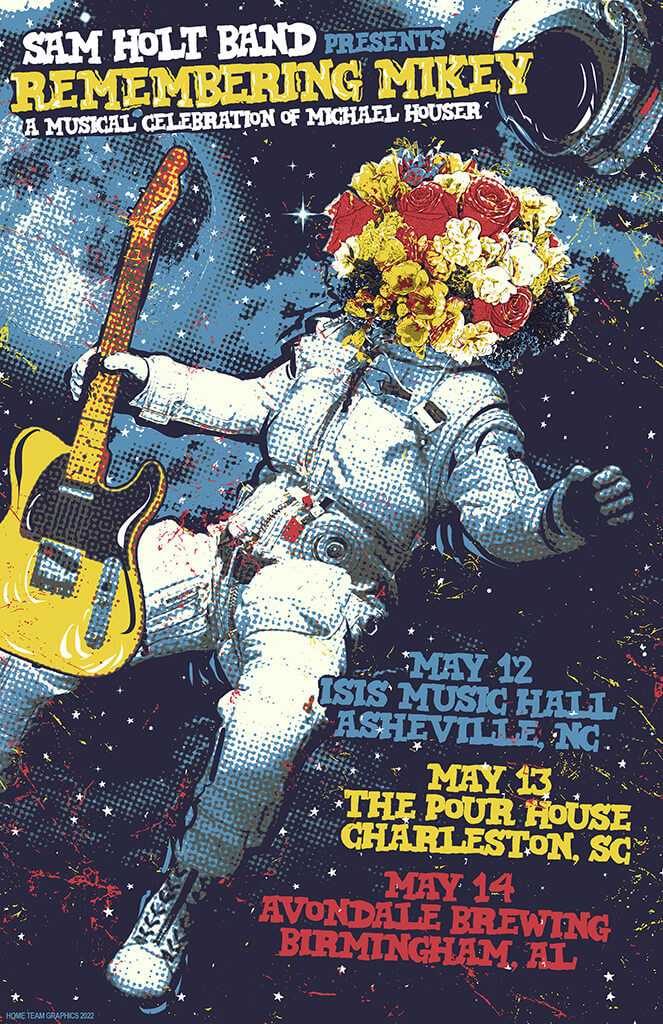 FOR IMMEDIATE RELEASE – March, 16 2022
Sam Holt Band are playing three special shows in celebration of the late Michael Houser and Todd Nance. Houser was the founding guitarist and Nance the founding drummer for Widespread Panic. Houser succumbed to pancreatic cancer in August, 2002. Todd Nance passed away in August of 2020 at age 57.
Sam Holt was Houser's guitar tech and friend. Holt also performed with Widespread Panic many times after Michael's departure and went on to form the band Outformation.
Holt also played with Todd Nance in several bands from 2014 – 2018.
The show will feature tunes from Houser's posthumous album Sandbox, as well as classic songs he and Nance wrote for Widespread Panic. Sam Holt Band will perform original material that was inspired by and written for the late Michael Houser.
The shows are billed as, "Sam Holt Band Presents : Remembering Mikey – A Musical Celebration of Michael Houser"
Joining Holt on these shows is Adam Grace , keyboardist for Truth & Salvage Co., and longtime member of Sam Holt Band.
Also sharing the stage is Ross Parker on bass, and Jeremy Ward on drums. Special guests have been confirmed for these shows. TBA Soon.
A special poster print has been designed by J.T. Lucchesi and you can find his instagram here: https://www.instagram.com/hometeamjt/
Sam Holt Band Presents Remembering Mikey – A Musical Celebration of Michael Houser & Todd Nance
May, 12 Isis – Asheville, NC (Buy Tickets)
May, 13 The Pour House – Charleston, SC (Buy Tickets)
May, 14 Avondale Brewing – Birmingham, AL (Buy Tickets)
"These shows will be a unique experience for Panic fans. I am a huge fan of Widespread Panic and Michael Houser's music. It is an honor to be a part of this Celebration. He had one of the greatest musical minds of our time." – Adam Grace

"I think about Mike & Todd all the time. Playing these shows is my way to feel close to them." – Sam Holt
You can also read more about Sam Holt Band at the following links:
www.facebook.com/rememberingmikeyband
For interview requests please contact: Andrea Craven w/ Home Team Publicity – [email protected]
Help Spread the Word! Take a moment and click the share buttons below!